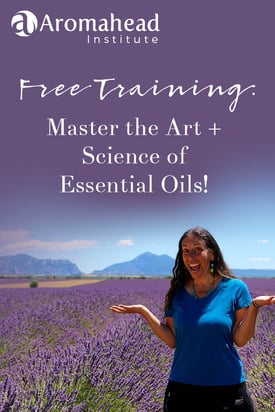 Why do some essential oils have multiple versions of their Latin names?
An example is Rosmarinus officinalis ct. camphor and Rosmarinus officinalis ct. verbenone.
Both of these essential oils are Rosemary . . . but the Latin names are different.
Why is that? And does it matter which bottle you choose?
It just so happens that some plants are capable of producing more than one type of essential oil. (And yes—it does matter which one you choose.)
Isn't that amazing?
The reason some plants can do this has to do with the environment and involves chemistry.I'll explain all about this during a free training webinar I created—and I'll do so in a way that is easy to understand, even if you are a beginner and know nothing about chemistry!
FREE TRAINING:
"Advanced Essential Oil Training:
Master the Art and Science of Essential Oils"
I'm hosting this FREE training webinar on a few different days and times to accommodate different schedules.
In the free training, I will tell you WHY some plants produce more than one kind of essential oil, using Thyme as a demonstration. And I'll show you how to choose the ideal Thyme for your purposes.
Not sure you can understand chemistry? You are not alone.


I want to reassure you—you can learn this! I am an Aromatherapy educator, and I've taught thousands of students in over 170 countries around the world.
I am happy to say, I have developed a teaching method that has worked for each and every one of Aromahead Institute's students!
It will work for you, too. I'm certain of it.
I'll show you on the webinar.
This free training will also show you how to . . .
Became an essential oil EXPERT—able to use oils to help your family, friends, and clients every time!
Instead of guessing which essential oils to use, you can learn to make reliable research-based choices.
Understand safety issues without having to sort through conflicting books and websites.
Stand out from the crowd of people who have a "beginner's understanding" of Aromatherapy (and may even offer confusing advice or make products based on misinformation).
Do you feel finished with guesswork and confusion?
I want to show you how to master the ART + SCIENCE of essential oils.
But get ready . . .
Because your new level of knowledge is going to make you a role model.
You may find more people coming to you for advice.
More people asking you things like,
"Which essential oils are your favorites for natural cleaning? Do they really get rid of germs?"

"I need an essential oil that soothes pain and reduces infection, but is gentle on skin. Do you know of one?"

"Are there any safety issues associated with Thyme essential oil that I need to be aware of?"
And guess what? You will know exactly how to answer their questions and offer advice that helps them!
You know that essential oils work.
But if you have ever made a suggestion to a friend, or used essential oils for someone you care for, and did not see results . . . that can really shake your confidence.
KNOWLEDGE is the best foundation for your success. Please join me for this free training, and I will help you feel more confident.
I'm so excited to see you there!
Andrea Butje is an internationally-recognized Aromatherapist who has changed the educational paradigm through her inspired approach to teaching essential oils and Aromatherapy Certification. Check out her book,
The Heart of Aromatherapy
, at Aromatics International!
Topics: certified aromatherapist, aromatherapy certification, essential oil education, aromatherapy school